"If not you, who? And if not now, when?"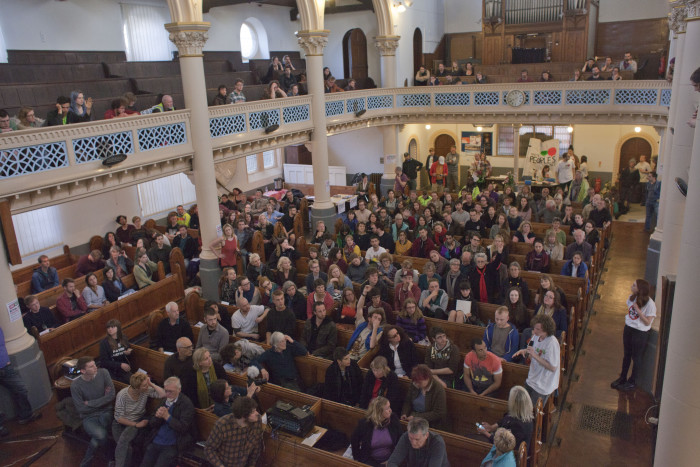 Photo: Rowan Quarry
Over 300 people met at the Baptist Church on Stokes Croft yesterday evening for the public meeting "After the election: How do we STOP the Tories in their tracks?", to discuss what actions could be taken to face the policies of the new Conservative government.
Attendees were encouraged to come down after last Wednesday's protest in the city centre, where over three thousand Bristolians demonstrated their discontent with the prospect of five more years of austerity.
Speakers from a range of backgrounds took to the pulpit. They were: James Meadway, economist and writer, Jess McLean, a Bristol tenant fighting a revenge eviction & ACORN member, Steve Turner, Unite Assistant General Secretary & National Chair of the People's Assembly Against Austerity, and four members from Bristol Against Austerity, a collective of young female college students who organised last week's demonstration. However, the bulk of speakers came from the audience, who expressed a willingness to be active in challenging austerity.
"Young people make the difference", "we are not going to be debilitated", "If not you, who? And if not now, when?" were some of the most applauded comments. People called for action, describing how a movement was developing, with an audience member saying "the challenge we have is absolutely huge".
Many people followed and reported on the meeting on twitter, using the hashtag #EndAusterityNow. Attendees were invited to help promote a big national demonstration on the 20th of June in London. Meanwhile, others emphasised that involvement in smaller protests should also happen in different cities nationwide.
The next protest in Bristol will be on Saturday 30th May (link).