After Grenfell: what now for fire safety in Bristol?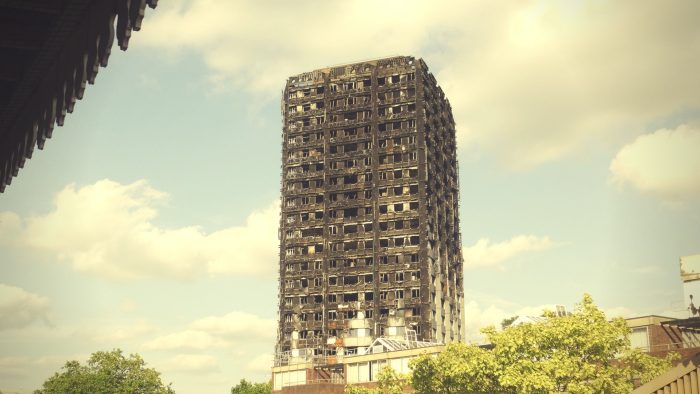 Over the past couple of months, Sandi and Vivian met up with local residents at some of Bristol's high-rises to check out the mood on the ground, and see what is being done to improve fire safety in Bristol after the Grenfell disaster.
Photo: Flickr/ Paul S Hird
An official inquiry into the causes of the fire at the Grenfell tower block, in which around 80 people died, will begin later this month. We have all heard the accounts of what happened that fateful night in June: the fire spread rapidly, engulfing the entire block in a matter of hours. Several contributing factors have been suggested: the cheap combustible cladding and insulation; the 'chimney' effect between the cladding and the block's concrete pillars; absent or defective fire doors and fire alarms; and the failings of London Fire Brigade's equipment.
Then there are the broader reasons—to quote MP David Lammy, the "systemic failure at a local and national level when it comes to the provision, management and administration of social housing in this country". We also know that the Grenfell Action Group repeatedly raised concerns before the fire about the lack of enforcement of parking in areas restricted for emergency vehicles, the location of boilers and gas pipes, and the lack of sprinklers and fire alarms. All of which the royal borough of Kensington and Chelsea, who own the block, and Kensington and Chelsea tenant management organisation, failed to address.
Safety in Bristol high-rises
To provide 'reassurance' to tenants about fire safety in Bristol's tower blocks after the Grenfell disaster, Bristol City Council (BCC) and Avon Fire and Rescue Service (AF&RS) visited all 59 high-rises. These blocks house around 10,000 people in total. We came along to one of the last visits, at Lansdowne Court, a 17-story block in Lawrence Hill, the most deprived ward in Bristol.
On arrival, we met surveyor Paul Murphy, projects manager for housing delivery, Andy Gilberson, and Hayden Berry from housing, all from BCC, as well as fire safety officer Ian Strand and firefighters from AF&RS. Initially only four residents were in attendance, two of who came across the meeting by chance. Thanks to fervent texts sent out by one attendee, around 20 more residents trickled in—mainly BAME (black, Asian, and minority ethnic) women with young children.
The most urgent question on everyone's minds was whether Lansdowne's cladding had, or would soon be, tested. When Gilberson replied that the cladding passed fire regulations, a firefighter pointed out that "so did the cladding at Grenfell." To which Gilberson attempted to reassure the attendees by staying that "the cladding system used in Bristol is different". Rahla, a resident living with her disabled child on one of the highest floors, replied, "So, you cannot be 100% sure. You cannot reassure us." So it was that this exchange set the tone for the rest of the meeting.
Tenants raised many practical concerns, similar to those raised by the Grenfell Action Group, such as the lack of sprinklers in flats and common spaces and delayed repairs (two fire doors, which tenants had reported as broken for two months, were reportedly fixed the day after the Grenfell fire). There was confusion over whether gas was permitted in the building (BCC representatives thought it should be dead, one resident replied that she has a gas cooker), and how to ensure private renters and leaseholders had working smoke alarms. Gilberson said, "we are looking into the feasibility" of implementing these changes. The response appeared to leave residents further unsettled.
Given the number of children who died in the fire–at least 11 in the most recent count–people were understandably worried about their families' safety. One father living in Landsowne Court asked how he could reassure his young daughter who was too scared to come and stay with him in case a fire broke out. Another tenant, living on one of the highest floors with her two asthmatic toddlers, said, "If there's smoke, my child hasn't got a chance of making it down. Their airways will close up. I've spoken to BCC and they've told me I'm alright up there on that floor."
Although the fire service does not rely on saving people through windows, Rahla walked out after hearing that AF&RS' nine-story ladder would not reach her floor: "that means me and my child are dead. There's no point in me staying". Frustration in the room was growing palpably—answers were lacking or inadequate—and others also eventually stormed out.
The remaining residents were keen for transparency, wanting to hear what residents in other tower blocks had said, and how BCC would respond. In light of this, BCC sent out newsletters answering the common practical concerns and responded to the Cable's request for information on what action they would take [see infographic]. We contacted some of the tenants who had attended the meeting to confirm that they had received the information: not many had.
On 4th August, Ujima Radio organised a tower block update meeting at Trinity Centre. Most apparent in this meeting was the perception of national governments' disregard for social housing. Paul Smith, BCC cabinet member for housing, said, "[Grenfell] is a problem about council housing, of shoddy building work, poor building control, doing this on the cheap, and not putting the safety of people first…" He continued, "Conservatives ideologically opposed council and social housing…The secretary of state for local government wrote to all local authorities and said, 'if as a result of what happens at Grenfell['s inquiry], it requires additional funding, find it yourself, we're not going to provide extra money'." Considering this, there was some support (as well as cynicism) in the room for Rees' plans to lobby central government to end austerity in local authorities.
Echoing Lansdowne tenants' concerns, one resident asked what could be done for people with disabilities, and families with young children, living on high floors. Smith said that BCC's "£220m" 'affordable' house-building programme would help to move families out of cramped flats and into housing." He added, "We have to be realistic. The population of Bristol is growing by 8000 a year. The number of new homes…is probably about 1000 a year. There is no extra land: that will partly be addressed by there being more blocks built [although] not by the council". Carlos De Lima, BCC surveyor, added that BCC has a list of disabled tenant in high-rises for use in case of emergency.
The speakers emphasised residents' responsibilities for fire safety, telling fellow tenants not to leave rubbish in corridors, not to throw cigarettes in bins, and to tell BCC about necessary repairs. But, as residents at Lansdowne pointed out, people don't know their neighbours, a sense of community is missing, and BCC do not always react to concerns promptly. Smith discussed organising volunteer fire wardens "interested in keeping an eye on each individual block" and improving "resident involvement in the city to give tenants a much stronger voice in the council and beyond".
Early in the meeting, Steve Quinton, AF&RS fire chief, said that since the design of tower blocks would contain a fire to the flat of origin, a whole building evacuation drill should not be necessary. The last resident to speak poignantly responded, "It wasn't necessary for Grenfell until it was. It's not just planning for the things you know; it's what you don't know."
The Cable will be publishing a video interview with Cllr Paul Smith soon. Watch this space.