The Cable view: A development for justice in this city, with the help of Cable members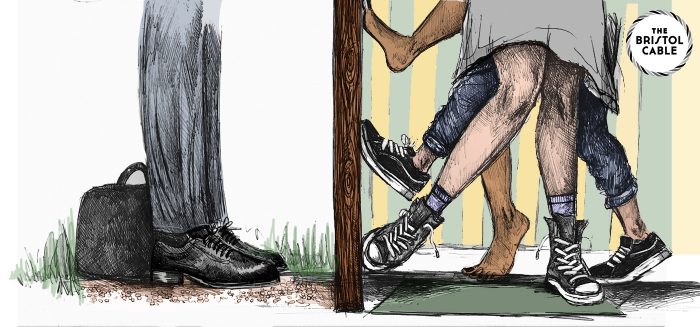 The Cable led calls from across the city to #bootoutbailiffs – and we're being heard. But there is much more to do.

Illustration: Jazz Thompson
Part of our campaign calling on the council to stop using bailiffs
Read more from this campaign.
As democratically decided by Cable members, we set out to launch a campaign. In March this year, we chose a local issue, but one with significance beyond the city boundaries. It was symbolic of deep problems facing our society and communities, but also an issue that as a city we believed we had the power to change.
That issue was the massive, unfair and ineffective use of bailiffs by Bristol City Council:
We're launching a campaign to stop the council setting bailiffs on Bristolians. Here's why.
With households across the city struggling financially, Bristol City Council currently outsources its collection of council tax debt to unaccountable private bailiffs. Individuals who'd experienced that knock on the door reported that the encounters were often distressing and intimidating, and the companies racked up extortionate fees on top of the original debt – pushing struggling households further into debt.
The council have set bailiffs on tens of thousands of Bristolians. But there is another way.
And it's no small issue. Bailiffs are used by the council on average 50 times a day.
This only makes worse a situation of poor household finances that is primarily caused by stagnating wages, a housing crisis and poor debt collection practises by the council. Many of the dozens of people who came forward to share their stories declined to be named and photographed because of a sense of shame or personal failing.
"He said that he was nearby, and was going to come over and take my things"
But household debt is a matter of public policy, not private shortcomings.
And despite the scale of the council's use of bailiffs, they are woefully ineffective at actually recovering debts: bailiffs actually only collect 30% of the debts they are charged to recover, in part because they won't accept realistic repayment plans from people who just can't pay. But they still apply and rake in the fees, as do the individuals and companies that own them, including major Conservative Party donors.
Of course, in a time of austerity, the council needs to collect the tax owed to it. But the Cable campaign pushed for it to consider more ethical and more effective alternatives, that don't push people into further debt.
The Cable's campaign joins long standing calls by charities, campaigners and others for a makeover of the bailiff system. But we can't wait for the government to act, so we called on the Mayor and the council to make a change.
Opinion: Our mayor has an open goal opportunity to help thousands. Will he take it?
And now, after months of publishing investigations, powerful voices and ideas for solutions, plus effective independent lobbying from Cable members, councillors – particularly Hartcliffe's Paul Goggin – and others there's been a significant development.
The council has made a commitment to pilot an ethical debt collection scheme in the coming months. This is obviously an important development, and plaudits must go to Mayor Rees, cabinet member for finance Craig Cheney and others for responding to these calls.
Breakthrough: Council takes a step towards booting out bailiffs
However, it is not yet clear how far City Hall will go in fully booting out the council-instructed bailiffs from our communities, and the details of the pilot itself are not available.
Going forward, our role, and your role, will be to keep up the pressure for transparency and accountability. But we need your help to do so.
Please join the Cable and along with 2,000 others to build a media that holds power to account and serves our city. We need your support!
And if you are already a member, take five minutes to email your councillor or the mayor to express your support for this development and urge them to deliver on a full ethical debt collection programme. You can find their contact details here.
Help us #bootoutbailiffs by sharing this investigation with your friends, family, your local councillor, and the mayor.
Share and follow the campaign on social media and together we can #bootoutbailiffs