Hamilton House owners shut out Coexist after decade of managing building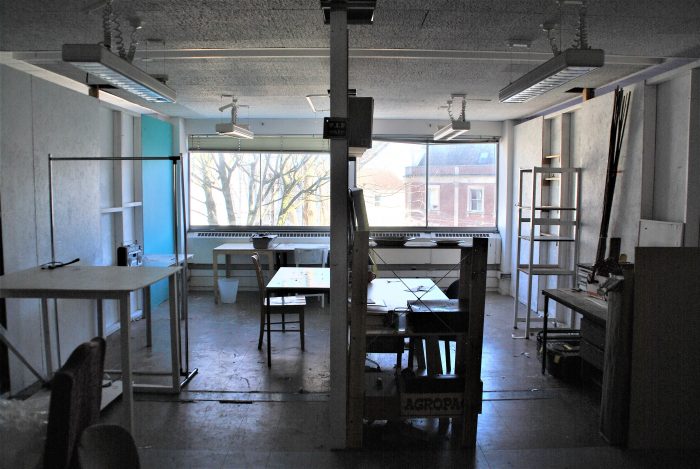 After a year of tense negotiations, evictions and uncertainty, Hamilton House's owners will also submit a full planning application for new flats.
Photos: Matty Edwards
Coexist, the social enterprise that has managed Hamilton House for the last decade, will not have its lease renewed, raising questions about the future of community activities at the Stokes Croft cultural hub.
Following a year of tense negotiations, the building's owners Connolly & Callaghan (C&C) announced on Thursday they would be looking for another organisation to manage the building, because of doubts that Coexist could "successfully execute its business plan".
The relationship between C&C and Coexist has deteriorated over the last year, as the owners have tried to get planning permission to redevelop parts of the building at the heart of Stokes Croft into flats.
"C&C ultimately have commercial interests at heart and are abandoning any attempt to bring community and social value forward"
Coexist said they had been coping despite the "extreme pressure" caused by "crippling uncertainty" and their rent being doubled in recent months. They presented plans to deal with future rent hikes, which included looking for grant funding, but Coexist said C&C "flatly refused" to support a grant-funding model even as an interim measure.
Coexist's business plan was reviewed by an independent consultant, who according to Coexist supported a number of their suggested changes to the building. They also said that C&C's lease wasn't fit for purpose, because the amount of rent being demanded wasn't viable for community projects.
Coexist say they accommodated over 500 artists, social enterprises and businesses last year, and subsidised nearly £110,000 in free space and support to disadvantaged groups. C&C had previously said that agreeing a 10-year lease with Coexist was central to keeping these activities going at Hamilton House once the flats had been built.
Coexist made a bid of £6.5 million to buy the building back in 2017 but this was rejected. The difficult relationship with C&C intensified earlier this year when around 200 tenants were evicted from block C of the building in March and C&C threatened further evictions in May.
Crucial period in planning process
The decision to shut out Coexist comes at a crucial point in C&C's attempts to redevelop Hamilton House – just after they held a public consultation in preparation for a full planning application.
This follows Bristol City Council's decision to reject a second application to develop block C through Permitted Development Rights (PDR), which allows eligible applications to be fast-tracked and subject to less scrutiny.
C&C are appealing this decision but said they would submit the full planning application before the outcome of their appeal. They are confident of overturning the PDR decision, however, which would allow extra revenue to fund internal and external refurbishments to the building.
If the appeal is rejected, a full planning application would bring greater scrutiny but due to extra costs and the requirement to provide 30% affordable housing, C&C have said they would be forced to redevelop block B as well as block C into flats, leaving only block A for community use.
C&C said they would only consider proposals from management organisations that would commit to continuing community outreach activities at Hamilton House.
However, Coexist director Danny Balla told the Cable the owners were "abandoning any attempt to bring community and social value forward", because they "ultimately have commercial interests at heart".
"It is disappointing that C&C have disregarded the wishes of the majority in the local community and the city of Bristol," he said.
"Instead of accepting Coexist's offer to put Hamilton House into community ownership and safeguard this extraordinary hub for community use, C&C are pushing ahead with plans to develop the building with no clear purpose or mandate."
"We do not wish to see Coexist exit the Hamilton House community; we wish to release them from the responsibility for space management so that they can focus on the community outreach that is their core value"
"I can't envisage how any other organisation could parachute in and take on the running of this building with the same level of security Coexist was offered."
"In the short-term, we have to work so that the bookings, partnerships and all the artists and social enterprises that rely on space at Hamilton House are able to plan for the months leading up to Christmas. We want to, at the very least, put in place a responsible plan for that, so they feel secure and have the freedom to decide what they want to do."
He added that while previously Coexist's "very precarious negotiating position" had prevented them from calling out C&C on what they were doing, they now felt more able to stick to their values and build "more of a community-led movement through Coexist".
Fran Connolly, from C&C, said: "We do not wish to see Coexist exit the Hamilton House community; we wish to release them from the responsibility for space management so that they can focus on the community outreach that is their core value.
"C&C intend to work with Coexist over the next 30 days to identify the community outreach parts of Coexist and its employees that wish to stay within Hamilton House community, and where we can agree a viable pathway to fiscal sustainability.
"For C&C to raise the £10m needed to upgrade Hamilton House, it is paramount that we, and our bankers, are confident in the ability of the company managing the property to reliably afford the agreed monthly rents and obligations of a long-term lease."
Connolly added: "While I appreciate that Coexist will be disappointed by our decision, I hope they will put the interests of the licensees and community users of Hamilton House first to ensure that they are impacted as little as possible during this transition.
"This is not a decision we have taken lightly. But we feel that this is the best way of respecting the successes of the past, strengthening area of weakness to create a sustainable community hub for the future."
Coexist plan to hold an open community meeting at 1pm on Wednesday 5th September at Hamilton House detailing their negotiations with C&C, business plan and taking questions on the unfolding situation.