MC Idren-Natural's life in a sound system culture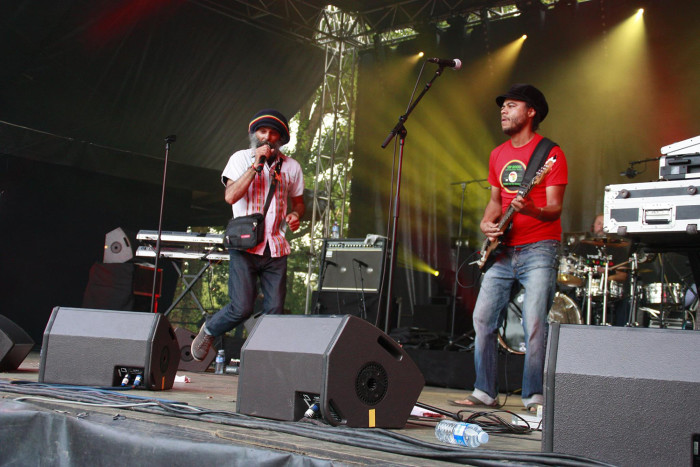 Photos: MC Idren-Natural
One recent afternoon, I'm sitting in an Easton-based studio with MC I-Natural, a Bristol-based artist within the dub roots culture, and co-producer Ras-Muffet, where I feel indisputable vibrations.
The environment is cordial; the part-produced music is both flowing to and coming from somewhere authentic. I feel as if I've heard it somewhere before, yet simultaneously it seems entirely fresh. "Ya like it!" Natural trills.
Sound systems have been a growing force in the UK since the 1950s, with Bristol having an unquestionable stake in their history. They emerged as an engine to mobilise people with common experiences of injustice and were coupled with Black festivals now known as Carnivals, such as St Paul's. Popular throughout the world, now there are new-wave acts keeping the culture alive and kicking.
Natural has been recording and performing since the early 80s, touring Europe and beyond with songs developed from his daily life. I'm amazed at the amount of records he's credited on. His own record label, Hands and Heart, and the group I'n'I Oneness have been circulating since the 90s.
Experience qualifies him to talk about the roots, and how UK sound system culture has changed over the decades. "They were used as a vehicle to share messages," says Natural. "We were uplifted by messages representing the have-nots."
Such artists are heartfelt voices of a struggle for equal rights, while tracing its origins in blues, jazz and hip hop. It's meaningful and meditative, yet certainly not to be played quietly. If you've stood by the speakers during a live session you'll know that it transports you to another place, reverberating through your insides and testing your stamina.
Then and now
Natural recalls the times when massive crowds were absent yet the sound was fully embraced within the local community, a time when there was significantly less racial integration. As long as the sentiments were sincere, it summoned a community spirit.
"Things have changed," he assures me. "Now people face the speakers more than the control tower and there are fewer Clarke's shoes."
From his early teens he learned about the Jamaican national hero Marcus Garvey and Emperor of Ethiopia Haile Selassie I, and listened to reggae legends Burning Spear, Black Uhuru, and Bunny Wailer, among others. Back then he did a milk round to save up for his first valve-amp and speakers.
"I was drawn to the music and Rastafari livity [way of living]… We chanted for equal rights and justice." He once lifted heavyweight speaker boxes for King Alpha and Malachai sound systems. It led him into the studio to do his first recording, 'Highest Region,' which was later released on the Dread and Fred Jah Shaka label.
The early 80s were a peak time for the Rastafarian way of life. The vibrations were rising. Inequalities and racism were unbearable at this time, leading to infamous UK riots, but also to his inspiration. Government funds helped him and others to build their first sound system, Imperial Youth, which later merged with Ashanti.
Talking about the foundations of sound systems, he insisted that there were some facts everyone should know. "Jah-Shaka, aka the Zulu Warrior Dub sound, is a forerunner of UK sound systems… Their sound was also referred to as King David-music, named after the chief musician from ancient days, who played 10 string instruments."
For him, today's generation has gained a lot from the struggles of such pioneers. "Although Jamaicans planted the seed, UK artists have kept it rocking," he proclaims. He thinks new acts should inherit the roots to be authentic. "To be a sound system today you can't forget what it has passed through."
Historically, and for good reason, this music was almost exclusively Black music expressed in the ghettos of Jamaica, the UK and America. But it now has international appeal. Jungle, drum and bass, and dubstep are young relatives that involve all classes and races.
"Newcomers should respect the history and teachings it carries… being the international Nyahbinghi heartbeat that unites nations." The word 'Nyahbinghi' is used to maintain a link between Rastafari and their African heritage.
A self-described "musical-warrior" duty still calls, so Natural isn't about to hang up his mic. I wished him all the best as I left the vibrating studio. He responded with:
"One love, Love heart, from the beginning, from the start, Forever and ever more, for sure. Guidance…"
Open a door to the world of sound systems and feel the message in the music. Google Idren Natural, find him on Facebook, see 'Musically Mad' on YouTube, or listen to an extended interview on Soundcloud.