Pandemic evictions and the Police and Crime Bill leave travelling communities fearful of what comes next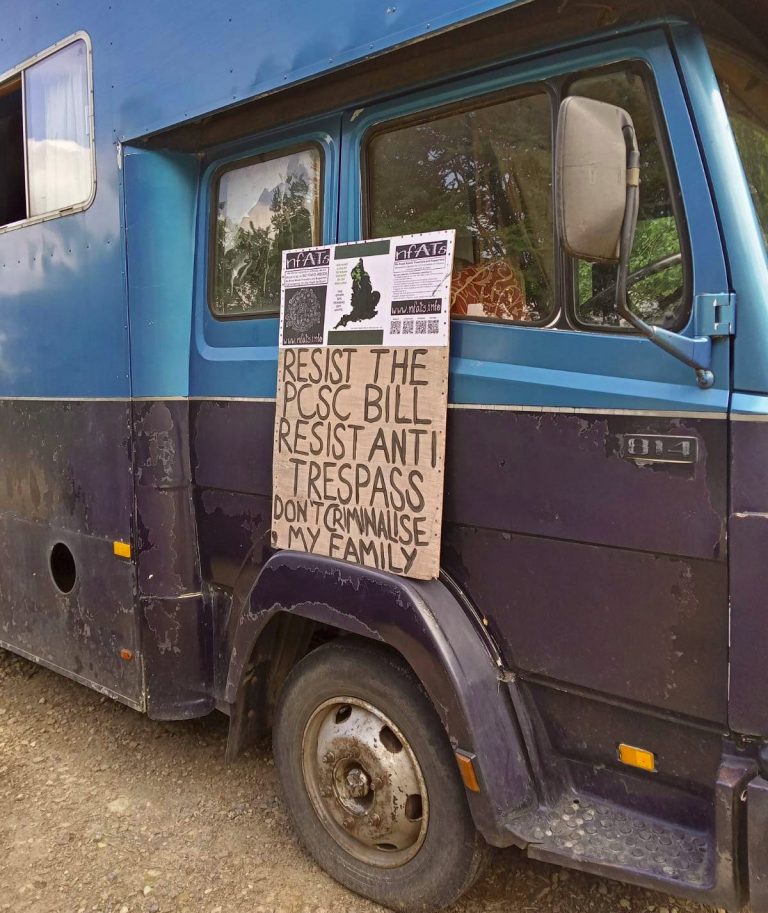 Main photo: Jenny/Glen
"We had quite a lot of protection with corona, and since the restrictions have started being dropped there's been a massive sweep."
Daisy* lives in a van, sometimes on the side of the road and sometimes on disused land, on unauthorised encampments. She's recently seen a rise in evictions, and is nervous about what will happen when trespass is criminalised later this year.
As things stand, people staying on land that doesn't belong to them is a civil matter, and landowners generally need court orders to evict. The Police, Crime, Courts and Sentencing Bill will change all that, making trespass a crime and hugely increasing police powers to evict, and to quash peaceful protest.
The bill, announced in March, prompting nationwide protests – 14 to date in Bristol alone and a petition with more than 254,000 signatures – is proceeding through Parliament. It will have a huge impact on the lives of anyone on the road, particularly nomadic Travellers, Gypsies and Roma, already among the UK's most marginalised communities.
Abbie Kirkby, public affairs and policy manager at the Friends, Families and Travellers advocacy group, says the Bill will do nothing to address a root cause of unauthorised encampments – the lack of safe stopping places.
Daisy tells me she's recently been parking on disused sites with other vans for safety and community: "There's at least one attempted break in a week. I don't feel safe on the street." Under the new law, two vehicles parked together will be counted as an encampment and moved on. "We're not wanted in the streets. We don't have places to go to", she says.
Daisy had been staying on disused land owned by Wales and West Utilities, at Glenfrome Road in Eastville. It was the largest unauthorised encampment in Bristol, with around 70 people, including children, staying in 40 caravans. Protesters successfully resisted an attempt to evict the site in June 2020, but bailiffs were more prepared for this eviction, arriving in greater numbers and setting up a roadblock in the early hours of the morning to prevent supporters getting near.
Nowhere to go
They'd been given 24 hours notice – two weeks after Wales and West had obtained a court order – which Daisy says wasn't enough time for that many people to move. She says they'd been in communication with Bristol City Council's Traveller liaison officer to get extra time while they looked for places to move on to. "We would [have left] peacefully if we had an alternative option. We didn't want to waste police money and council money", she says.
"It was a legal eviction", says Daisy. "But it didn't need to be like that. We were communicating with the council."
Glenfrome Road was so big because two other unauthorised encampments had been evicted recently, says Daisy. "There's no consideration of what's going to happen going forward – it's not addressed the problem, it's moved it to a different place", she says.
During the pandemic, Abbie Kirkby points out, Gypsies and Travellers living on camps have not had the same protection from eviction as others had.
"It's been an incredibly stressful time for many communities and families, and worrying about access to basic amenities [which many families lacked], or not being able to self-isolate, is just not something people should have to experience during a pandemic", she says.
Bristol has better provision than many local authorities in the UK. But it's still far outsripped by need – and increasingly, there's simply nowhere for people to go.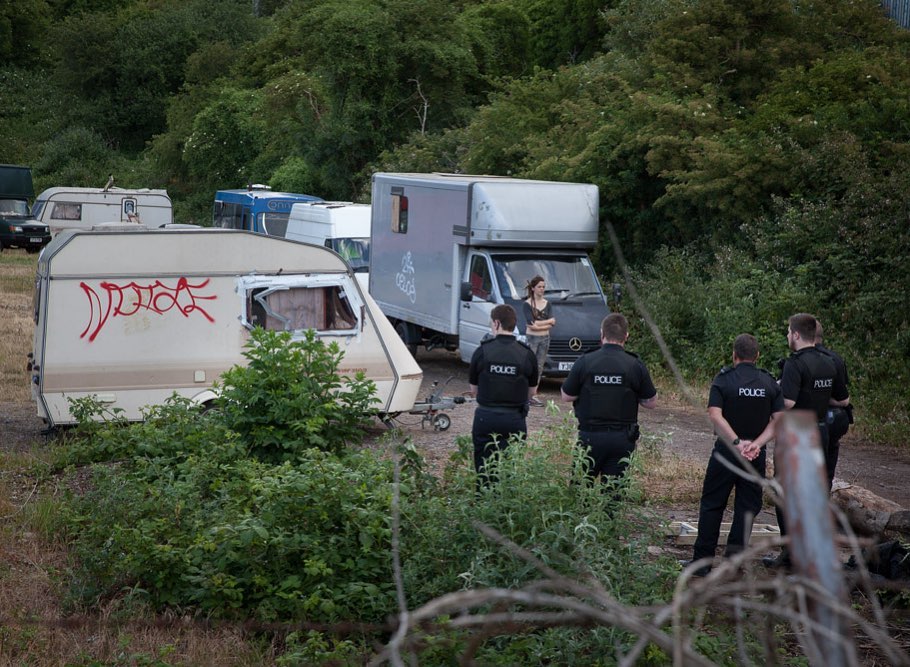 *Names have been changed