In Nottingham, a gang of masked men set a police station alight with petrol bombs in a pre-planned attack. Fifty miles away in Birmingham on the same night, the Barton Arms also went up in flames, as around 40 men threw petrol bombs and smashed windows. After police were 'lured' to the pub, as the judge later described it, the rioters shot at them.
What links these two events? Firstly, they were part of the 2011 riots that swept across the country after the shooting of Mark Duggan by police in North London. But this was also the last time that a group of people were charged with riot in England. That was until nine years later when four men were jailed for the same charge in connection with the Kill the Bill protest on 21 March in central Bristol.
In July, Kane Adamson, Brandon Lloyd, Kain Simmonds and Stuart Quinn were handed more than 3 years each in prison for a combination of attacking police officers, throwing a road work barrier and an electric scooter at their shields, smashing the windows of Bridewell Police Station and inciting others to join in.
A total of 21 other Bristol protesters have been charged with riot so far, with some awaiting trials next year. On Tuesday, four pleaded not guilty at Bristol Crown Court and will stand trial next summer.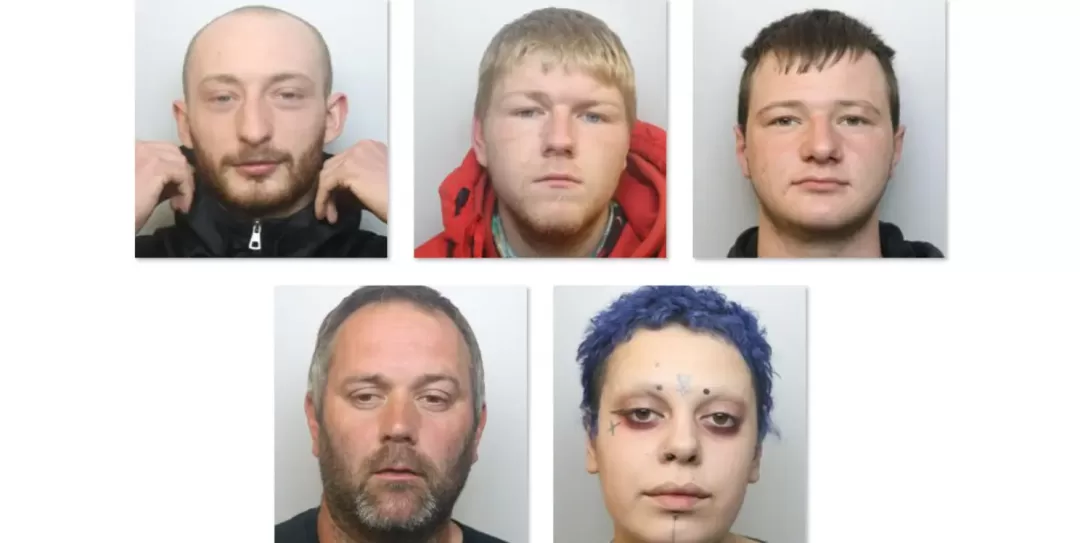 You have to go back 40 years to the St Pauls riots to find the last time that someone was charged with riot in Bristol. But even then, the 16 who stood trial were aquitted. The Cable could find no publicly available information on people being charged with riot following the Hartcliffe riots in 1992, or the Stokes Croft riots in 2011.
The spark of all this – the Police Crime and Sentencing Bill – is still going through parliament. Lawyers specialising in public order have told the Cable about how the prosecution of Bristol protesters using this rare charge compares with recent cases, amid wider concerns about how protesters are dealt with by the criminal justice system and how the Bill could lead to even harsher treatment.
What is the charge of riot?
The legal definition of 'riot' under the Public Order Act 1986 is: 'Where 12 or more persons who are present together use or threaten unlawful violence for a common purpose and the conduct of them (taken together) is such as would cause a person of reasonable firmness present at the scene to fear for his personal safety'.
The crime carries a maximum sentence of 10 years. By comparison, violent disorder and affray, similar but less serious offences involving fewer people, have maximum sentences of five and three years respectively.
Gus Silverman, a Bristol-based civil liberties lawyer at Irwin Mitchell, told the Cable: "Riot is one of the most serious public order offences and carries with it significant sentencing powers. In contrast with less serious offences such as violent disorder or affray, a charge of riot requires the prosecution to prove that a group of at least 12 people acted for 'a common purpose', which makes it harder to prove."
"The fact that a charge of riot can only be brought with the consent of the Director of Public Prosecutions (the head of the CPS) underlines its seriousness."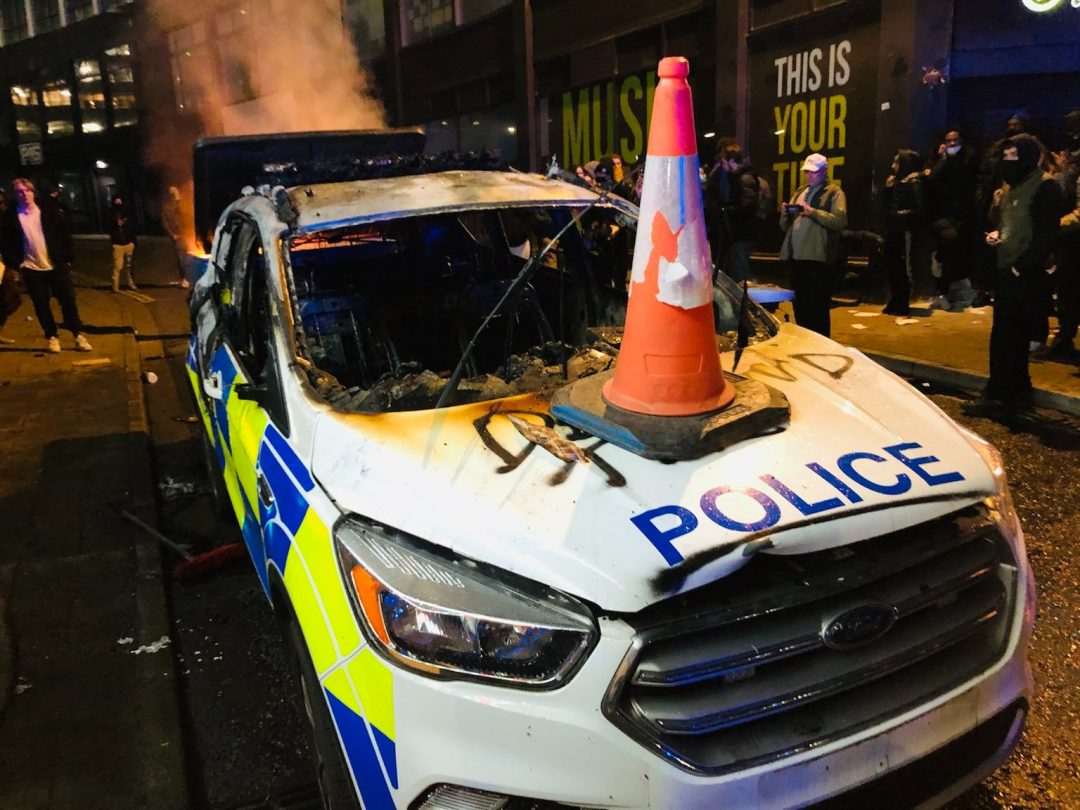 There have only been 52 people charged with riot in the UK since 2010, according to government statistics. At least 15 of the 22 people who were convicted were the rioters who attacked Canning Circus police station in Nottingham and the Barton Arms in Birmingham in August 2011. The average prison sentence for those charged with riot was more than five years, but in the Birmingham and Nottingham cases, this was on top of arson and weapons offences that led to sentences up to 30 years.
Despite the vast scale of rioting across London at the same time, which led to more than 5,000 crimes being recorded, only 1% were categorised as 'Other disorder', which includes crimes under the Public Order Act (POA) 1986, such as riot. The Cable could not find any cases from the London riots where someone was charged with riot.
Academics who looked into the sentences handed out in the aftermath of the 2011 riots accused the courts of 'collective hysteria', as rioters were charged with more serious offences, for example burglary not theft, and given tougher sentences.
But the biggest use of the charge of riot in recent times came in riots in Bradford and Oldham in 2001, which both had the added element of racial tensions and far-right politics.
In Oldham, where the rioting resulted in £2 million of damage, Asian community leaders criticised lenient sentences of a white gang who – armed with an iron bar and sticks – attacked Asian families and businesses. The 12 men were charged with riot, violent disorder and racially motivated criminal damage, but the riot charges were dropped after the judge ruled there was insufficient evidence. In the end, 10 received nine months in jail, and two escaped prison altogether, compared to Asian rioters who received up to seven years in prison.
In Bradford, roughly 100 of the 300 people jailed were charged with riot. One of those was an Asian man jailed for two-and-a-half years for throwing a stone. He told the Mirror: "I threw a small stone but it was like throwing a bomb at my own life, everything exploded."
Controversial charging of protesters
Matt Foot, a criminal defence solicitor who has represented protesters in the courts, told the Cable that not only was the charge of riot rare, but the use of less serious public order charges in recent years was controversial too.
"There has been excessive use of the charge of violent disorder on protesters for a number of years," he said, giving the example of the 2009 protest against the bombing of Gaza and the 2010 student protests, where many went to prison, including some who pleaded guilty without realising a custodial sentence was coming their way.
"There has been a concern about the excessive use of the high end of Public Order Act for a long time. It is a greater concern that the most serious offence (riot) is now being used, which is a much more draconian measure than violent disorder."
In 2015, Foot defended protesters who became known as the Rotherham 12. "A group of Asian men were defending their community against far-right racists who had come to fight them," he said. "One of them was charged with violent disorder for throwing chewing gum." The case collapsed in court and the 12 men were acquitted.
Abigail Bache, a barrister at Garden Court Chambers, said she'd never dealt with a riot case in her 17 years of practice.
She said new sentencing guidelines for riot came into effect in 2020 that provide for very lengthy sentences. "It may be that the prosecution are therefore now using riot as a deterrent to becoming involved in a protest.
"There appears to be some precedent for the prosecution seriously overcharging protesters," Bache added.
She was involved in the Stansted 15 case where protesters broke into Stansted airport to prevent a deportation flight from taking off with passengers that were still subject to the asylum appeal protest. The protesters expected charges of aggravated trespass, but instead were convicted of terrorism offences. This was overturned by the court of appeal.
"There was, in truth, no case to answer," Bache said. "It seems to show a pattern of the CPS overcharging protesters in what appears to be an attempt to prevent lawful or proportionate protest by trying to make an example of a few individuals to deter others.
"It's a very worrying pattern that appears to dovetail with the government's approach laid out in the new Police Crime and Sentencing Bill which again increases police powers significantly to arrest protesters causing disruption which is, after all, one the main points of a protest."
What about the Bill itself?
The Police, Crime and Sentencing Bill has been criticised for placing more restrictions on peaceful protest and targeting GRT communities with increased powers to evict unauthorised encampments.
But the Bill would also change how protesters could be charged in future, in response to the tactics employed by Extinction Rebellion and others, such as gluing themselves to buildings or vehicles, blocking bridges or buildings.
The Bill proposes a new offence of public nuisance with a maximum sentence of 10 years for anyone who does an act that, intentionally or recklessly, causes serious harm to the public or puts them at risk of such harm.
Silverman of Irwin Mitchell said: "As recognised by the Joint Committee on Human Rights, the PCSB has significant implications for the right to protest. The proposed offence of public nuisance in particular risks criminalising a range of peaceful protest behaviour if deemed to cause 'serious annoyance' or 'serious inconvenience', and could result in a maximum sentence of 10 years imprisonment.
"If the Bill is passed in its current form, it will risk placing the UK in breach of its obligation to facilitate the right to peaceful protest under the European Convention on Human Rights," he added.
What does the use of riot charges mean in Bristol?
Before handing out the prison sentences of at least three years to the four Bristol rioters from 21 March, Judge James Patrick said he was moved by the victim statements. "There were many officers injured and many officers, and their families, who have been greatly affected by the incident. Some officers thought they would die and some officers could not even speak about it to their families.
"Officers were struck, spat on, kicked and punched, some whilst defenceless on the ground. It was fortunate some were not more seriously hurt. This lasted from the evening to the very early hours."
The police have said 44 officers were assaulted by protesters that night, but they did retract initial claims about injuries to officers. Protesters were also hurt and in the second and third protests, there are videos showing violence by the police against demonstrators.
Bristol Defendant Solidarity (BDS), a local volunteer-led group supporting people facing arrests and criminal charges, reported that at least 62 people had been injured by police between 21 and 26 March. A cross-party inquiry into policing of later protests found that police used excessive force, with some witnesses calling it 'revenge policing'.
BDS told the Cable that no one was charged with riot in Bristol during the disturbances over the Tesco in Stokes Croft in 2011. "There was media hysteria but the number of arrests was much smaller," they said.
BDS believe that the recent excessive use of riot charges against Kill the Bill protesters is indicative of government's attempts to roll back the right to protest won over the last 150 years, which would be threatened further by the PCSB.
The group have set up a fundraiser to help those who have been arrested or are facing charges. Another fundraiser will go towards supporting those already in prison and their families.
16 people will stand trial on riot charges at Bristol Crown Court between October this year and June 2022. A further four have been charged and have not yet entered their plea, while one person is awaiting sentencing after pleading guilty.