'People make us out to be anti-social, but we're not': meet the van-dwelling pensioners dividing opinion at the Downs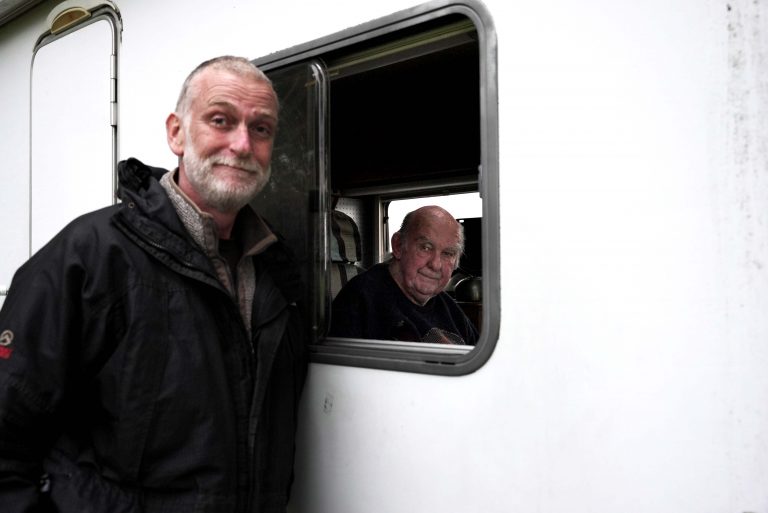 On a late summer's day, the Downs are at their best. Groups of walkers wander here and there, while students play sports where the fresh-painted touchlines signal autumn's approach.
On Parrys Lane – a short one-way road that transects Durdham Down as it reaches Henleaze – the longest of a group of motorhomes has its door open, with an Alsatian tied up on the grass outside. Cameron MacSween, 79, a well-spoken and articulate ex-president of the Chamber of Commerce for Dover, sits at a table beside the door, a suit hanging up behind him.
MacSween has been here on and off for two-and-a-half years. Before the pandemic he was travelling around Europe and the UK, before being forced to stay here by the lockdown restrictions. He is one of three men in their seventies who have been living here in a community of van-dwellers.
There has been an increase in van-dwelling in recent years as a result of an increase in house prices and rents – and Bristol has been one of the places most affected. The presence of older people like MacSween at Parrys Lane underscores the extent to which the housing crisis, coupled with coronavirus restrictions, has increased the diversity of people living long-term in vehicles.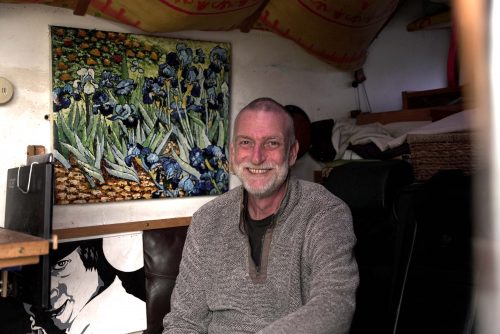 The Parrys Lane van-dwellers have divided local opinion, with some residents – notably a group called Respect the Downs – complaining about them staying semi-permanently on protected land. The van-dwellers, and other locals, believe they cause no nuisance and are a beneficial presence.
MacSween says the Parrys Lane community is crucial for his health and wellbeing. "I've lost a lot of my mobility – I have problems with my knees and I'm having treatment at Southmead Hospital," he says. His neighbours help him to move in and out of his van, and to buy essentials, he adds.
He is quick to refute claims of nuisance at Parrys Lane – which include "human waste in the surrounding area, littering, anti-social behaviour and the creation of a no-go zone for Bristol residents" – made by Respect the Downs.
"I think they've got it wrong," he says. "They publish disinformation, such as pictures of rubbish here. We don't tolerate rubbish in any conditions. They make us out to be anti-social [which] we're not."
'You need a safe place'
A few doors down from MacSween sits a white Transit van, the home of Dave Turton, who is 56 and has an autoimmune disorder.
"Living in a van, you need a safe place," he says. "Before the pandemic I'd go to Cornwall for summer and Spain for the winter. I drove back from Spain and got locked down here."
Tell your friends…
Turton says there are seven or eight regulars here, but that most people come and go. "A lot of people are living in vans [because of] the housing crisis," he says. "There are people who stay the night because they're working in Bristol. They can't afford to live here.
"Before Christmas I spoke to about 200 people in Henleaze," he continues. "Most don't care about us being here."
Both MacSween and Turton emphasise the sense of community at Parrys Lane – something Bristol City Council's Unauthorised Encampment Policy for Vehicle Dwellers cites as a key reason why people living in vehicles gravitate to the city.
"The police tell people to come here because it's a safe place," Turton argues, referring to a female van-dweller who was subjected to sexual harassment on a different part of the Downs and was moved here to be safer – and is still there.
An unfair use of the Downs?
Robert Westlake, the chair of Friends of the Downs, a volunteer organisation set up to "preserve and protect the Downs", agrees with some of the points made by MacSween and Turton. "To date the 'self-management' of the site seems to be working, and the van-dwellers in general appear to behave responsibly and, to some extent, contribute to the Downs," he says.
Westlake adds that he understands the issues that have contributed to van-dwelling. "Homelessness, unaffordable rents, proximity to work opportunities, hospitals and relatives are all relevant factors," he says.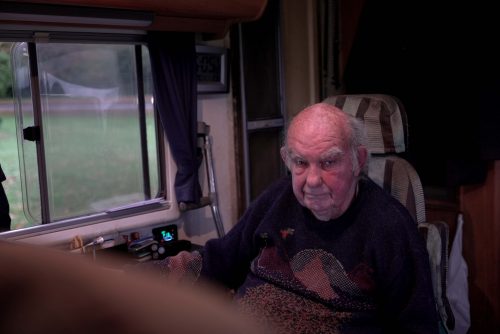 Steve Smith, the chair of the Downs Committee – and a councillor for Westbury and Henleaze and the current Lord Mayor – does not dispute this. But he says what most residents complain about is the unfairness of van-dwellers living on the Downs when they are not meant for this purpose.
"If you wanted to set up a new community by building houses or setting up a caravan site you wouldn't get that consent on the Downs because they are protected," he points out. "Yet that is what we've got – there is a semi-permanent community of people living there and no process has been followed by the council."
Smith says Respect the Downs have made two proposals to the council. "The first is to review the parking restrictions across the Downs," he says. "The second is to close off Parrys Lane and rewild it."
Residents know this isn't the solution, Smith goes on. "Most people know that the only way to get the problem fixed is to have decent places where people who choose to live in vans can do so safely and with some control over their own environment," he says.
What next for Parrys Lane?
The council launched a van policy in 2019 to deal with the fact there were a growing number of people living in vehicles on the road. The policy categorised encampments as high- and low-impact and outlined council and police powers to move people on.
At the start of the pandemic the council provided two temporary sites for the city's travelling communities, to allow them to self-isolate. While it has not been able to maintain all this extra capacity, it has since opened further provision, most recently on the site of a former Knowle West primary school.
At a Downs Committee meeting in July, it was revealed that the mayor's office had put forward Respect the Downs' proposals for the committee's agreement, with Green councillor Paula O'Rourke arguing for the importance of finding a different site. "There has to be a solution which doesn't push our problem across the city and penalise and punish those people who don't really have any choice about where they live," she said.
The committee has written back to the mayor's office to ask if there is an alternative site available for the Parrys Lane group to move to. With no decision yet taken, the future of MacSween and Parrys community remains precarious.