Solar Tree Roots Out Social Inequality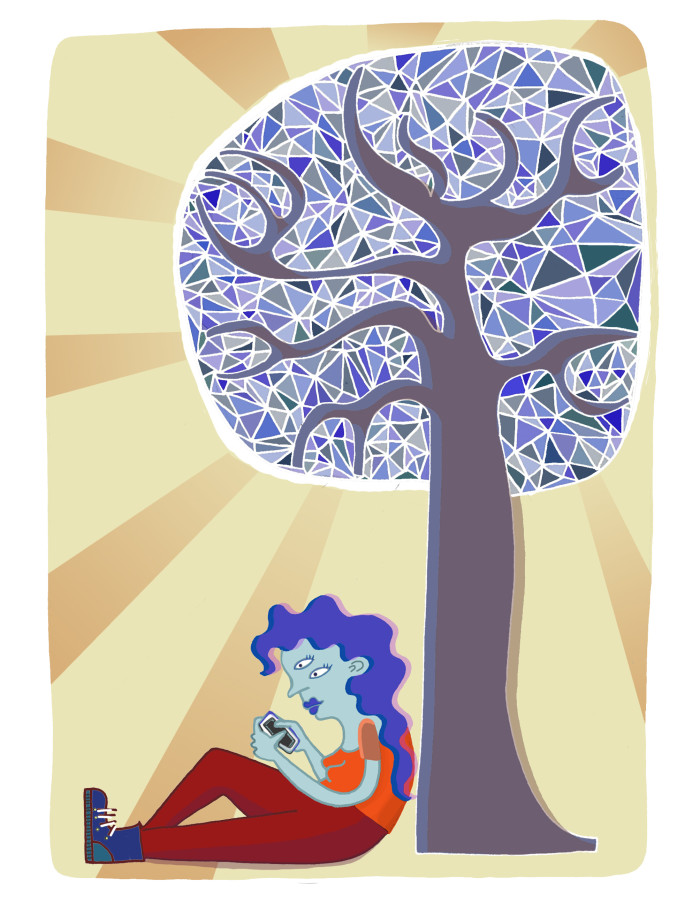 A solar energy tree project sees local artist, energy consultant, science museum, and drug and alcohol support service collaborate to address social inequality and environmental sustainability.
Words: Katey Burak with contributions from Amy Edwards
Illustration credit : Zoe Power
Rooted in the ground in Bristol's Millennium Square, near the At-Bristol science centre, is a strange sort of tree. Rather than bark, its trunk and branches are made from curving metal girders, strengthened by an intricate triangulated latticework. In the place of green leaves straining towards the sunlight are solar panels. Information panels invite the public to use free Wi-Fi, through an 'energy quiz' gateway, and charge their phones from the electricity generated.
"A tree is a metaphor, a playful metaphor – all trees are solar trees. Hopefully [the tree] can plant a seed-thought about where our energy comes from, and why we rely so much on fossil fuels."
– John Packer, designer and artist behind the Energy Tree.
Public art as we know it is celebratory bronze horses; it's about power, town planning and costly nods to established artistic egos whose ideas are often unintelligible to the public. Speaking of the tree, Lucy Whitaker, a passerby, says "[they've] made it beautiful and useful. We need that in our environment".
Grassroots origins
The tree's story started with Dan Quiggin, a director at Bristol's 'energy literacy' consultancy Demand Energy Equality (DEE), reading an article suggesting that emulating the natural tangle of a tree's leaves could be an efficient way of harvesting the sun's energy. He started searching for the fabricator who could build it – and was put in touch with Packer, who had already come up with a design.
DEE's commitment to social change had led to a series of DIY solar panel workshops with community groups, one of which was Bristol Drugs Project (BDP). Maggie Telford, CEO of BDP explains that, in the search for projects "that might really inspire and interest people", BDP then decided to part-fund the Energy Tree, with volunteers from BDP's client group hand-building each solar panel and contributing to the fabrication of the structure.
For a public art piece of this permanence and scale to come from grassroots organisations is refreshing. Finding the support of At-Bristol (which manages Millennium Square) was invaluable. And where better to place a functional educational art piece that highlights social and environmental issues, than outside a science museum for children?
"We got very lucky with organisations (BDP and At-Bristol) who had enough imagination and ability to take a bit of risk to actually go with it," explains Max, a director at DEE. A grant from Bristol Green Capital made siting the tree in such a public space possible.
Engaging marginalized groups
But, as mentioned above, it's not just people crossing Millennium Square who've benefited from the science behind the Energy Tree. Around 50 volunteers from BDP's client group attended workshops with DEE over the course of the year to learn the basics of electronics, and about broader energy issues. 
I met Jon and Anna, both volunteers from BDP. Their experience was an empowering one, which they said had brought them closer to their goals of living off-grid.
"We learned skills we can put to use in life. That you don't need to fork out for top-of-the range shiny stuff. You can knock it together on a shoestring."
– Jon, volunteer
Teaching how to make solar panels won't solve the world's energy needs. But it does help render the idea of actively harnessing energy less alien, allowing people to make informed decisions about energy use.
In the case of the tree, it's also had other direct benefits for the people who helped build it. "A lot of people with [drug and alcohol-related] problems have a lot to offer," Jon pointed out.
"But if the rest of society writes people like us off…" he continued, hinting at how stigmas around such problems can cause exclusion, having a negative impact on people's recovery. 
"A chance and a bit of trust makes such a difference. It's not just drug and alcohol abuse either. We should engage with people with any problems and help them to lead a more productive life."
– Anna, volunteer
Far better to harness the energy of people on the peripheries of our society. It'd be easy to dismiss the Energy Tree at a glance as a feckless salute to renewable power, but it's the strong sense of teamwork to address social inequality that distinguishes this unique environmental project.