Bristol's fourth Police and Crime Bill protest remains peaceful after hands-off policing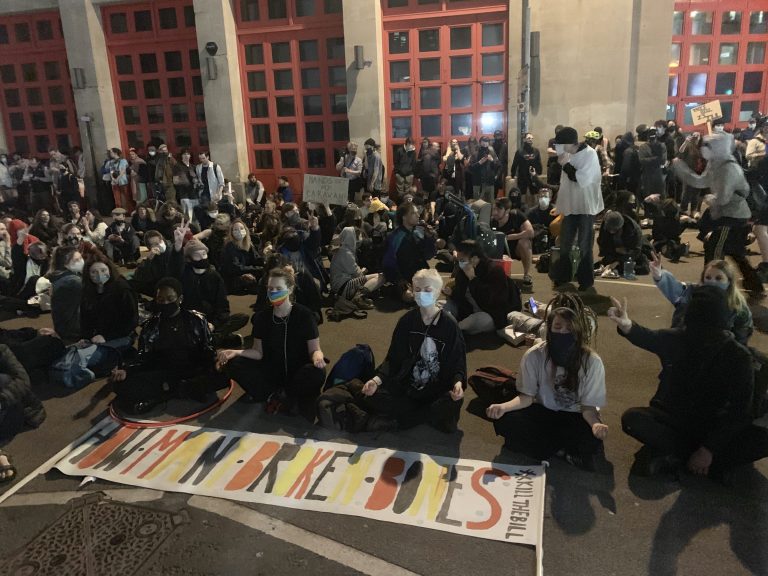 Photos: Filiz Gurer
Hundreds of people turned out in Bristol city centre last night for the fourth time in nine days to demonstrate against the government's Police and Crime Bill.
In markedly different scenes to how the first three protests in Bristol unfolded, there was a minimal police presence and no attempt to clear out demonstrators, which allowed an entirely peaceful protest to go ahead. This was the first of the demonstrations to be allowed after Covid-19 restrictions were eased this week.
Protesters started gathering on College Green from 6:30pm with banners and placards, as others enjoyed the Spring sunshine and the relaxing of lockdown measures.
Explaining their reasons for attending, one protestor said: "I think it's fundamental if we don't do something about [the Bill] now, then we'll miss the boat on showing that democracy is at stake right now."
The police's use of force against protesters, including hitting them with riot shields and batons, particularly during protests last Tuesday and Friday, have come under intense scrutiny, with some local politicians condemning the violence and calling for an inquiry into how events were policed.
Others, including Bristol's Mayor Marvin Rees, have criticised tactics of protesters as detrimental to the cause of opposing the Bill. Rees said over the weekend that the actions of some protesters had been "politically illiterate and strategically inept", but said today he was "relieved to see that last night's protests proceeded peacefully."
'Power to the people'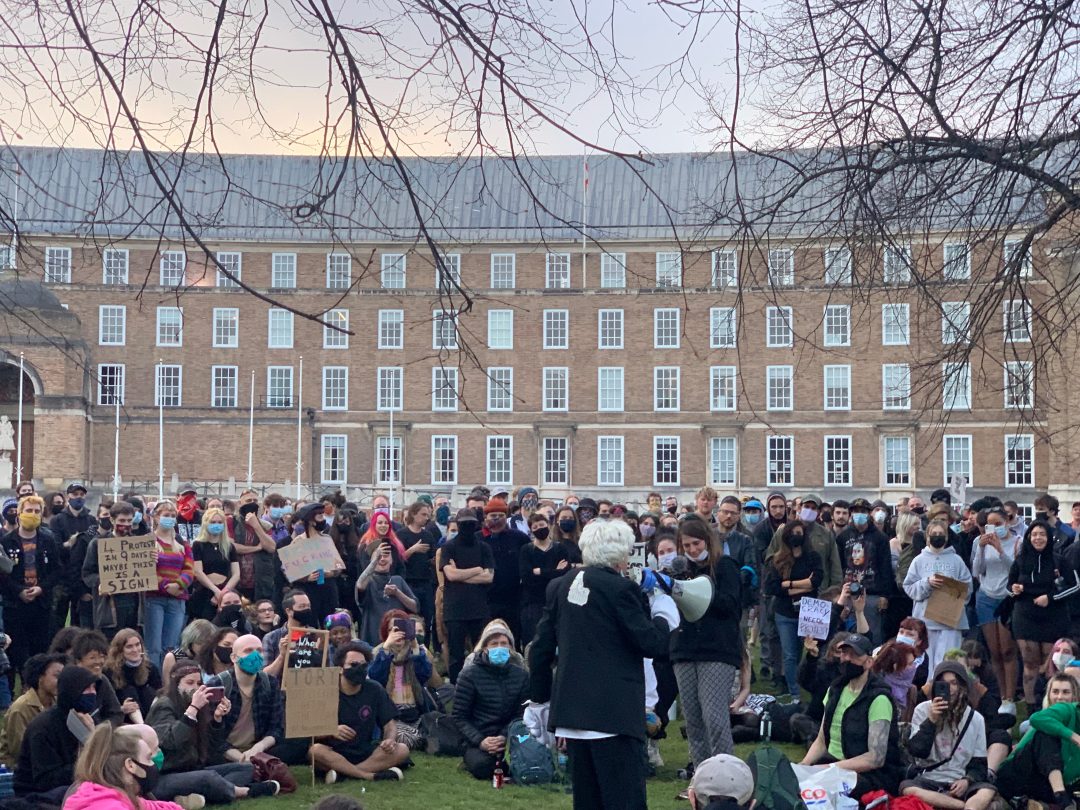 When a crowd of around 200-300 people assembled at College Green, multiple speakers addressed the demonstrators, an open mic allowed anyone who wished to come forward from the crowd to speak.
The atmosphere at the beginning of the evening was peaceful, and those who made speeches stressed that the protest should remain peaceful into the night, and spoke to dissuade anyone planning on displaying violence. "It is not the police who are the enemy", said one speaker to the crowd.
One of the last speakers to deliver a speech was poet and recognized figure in the protest Solomon OB, who spoke passionately to the crowd, encouraging people to keep turning out to protest and not lose focus.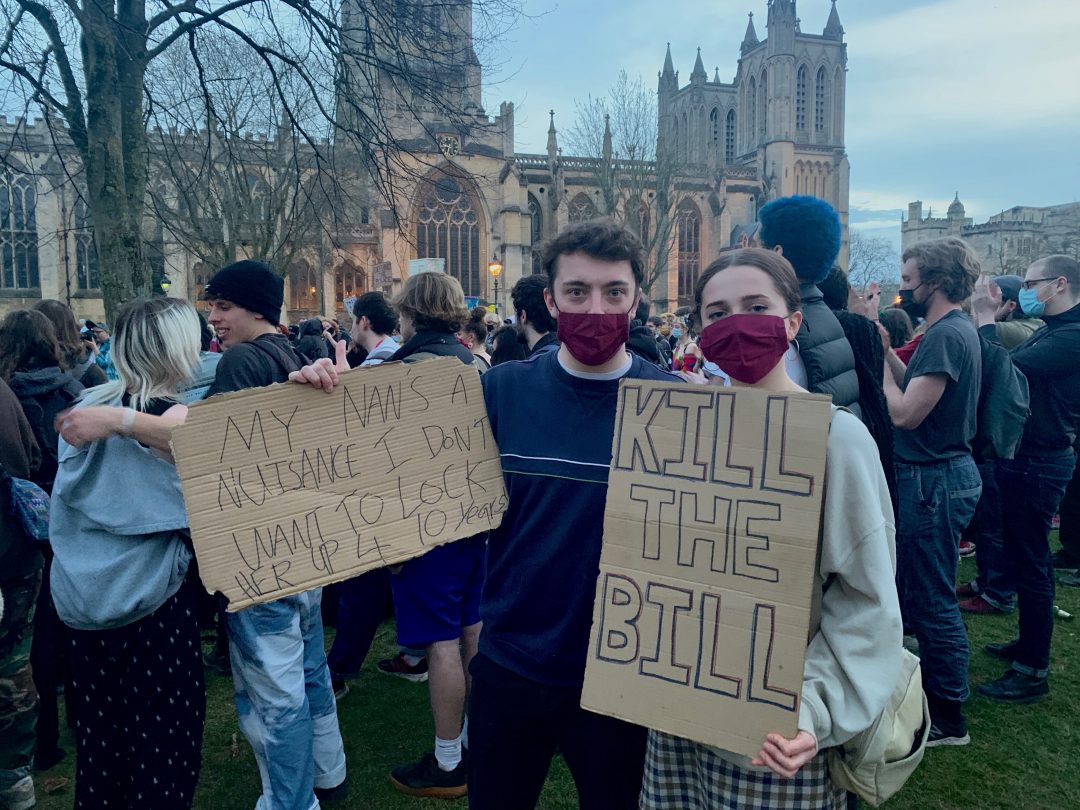 At 8.30pm protesters began their march through Colston Avenue chanting 'Kill the Bill!', 'Whose streets? Our streets!', 'Black Lives Matter!', 'This is what democracy looks like!' and 'Power to the people!'.
Marching protesters passed Bridewell Police Station, where police had blocked off the surrounding roads at Friday's protest. Protesters marched all around the city centre before returning to the police station for a peaceful mass sit-in with music and chanting.
In contrast to the previous protests, there were much fewer police officers on the scene, with no riot gear, mounted police officers or police dogs. Protesters were vociferous and were able to make their point clearly, but there were no attempts by the police to disperse people using force, and no acts of aggression by protesters towards police.
One protester told the Cable: "People are here to show they feel, and we have police here who aren't being violent… no one in these protests wants to be violent, people are not here to be violent… Police are engaging in conversation and are ready to actually talk to people."
Another protester said it was important that people opposed the Bill in numbers because the police "already have too much power".
Throughout the evening the atmosphere of the protest remained calm and orderly, as police liaison officers, and the very few police officers who were on the scene, displayed a non-confrontational approach. Protesters continued their peaceful sit-in for several hours until around midnight, at which point they started to disperse.
In a statement issued this morning, Supt Mark Edgington from Avon & Somerset police said: "From the outset we had a very positive dialogue with those gathering at College Green, led by our police liaison officers.
"We were committed to facilitating a peaceful protest, in line with the COVID-19 legislation. We'd like to thank all those who engaged with us, and to those who expressed their views in a peaceful and respectful manner.
"Now that restrictions around protest have changed, we wanted to press a reset button, and I believe we achieved this last night. We have a long and proud history of facilitating peaceful protests, spanning many years, and today was a prime example of this.
"In terms of future events, we continue to urge people to engage with us as early as possible, and have a conversation around how we can assist in ensuring lawful protests continue to take place."
A further fifth protest is due to take place in Bristol on Saturday, as part of a national day of action against the Police, Crime, Sentencing and Courts Bill.