Rooftop protest against squat eviction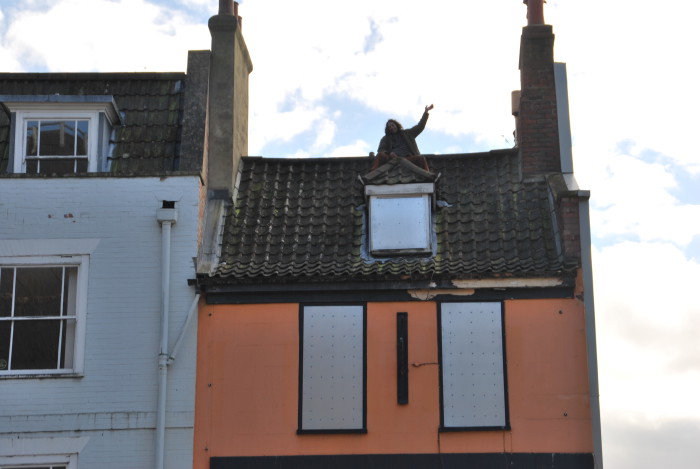 "There is a housing crisis and they are trying to evict people from their homes. I am resisting peacefully. This is my home."
Photos: Lorna Stephenson
A three-hour rooftop occupation was staged by a man resisting an attempted eviction of the squatted Printers Devil pub in Broad Plain, Old Market this afternoon.
From the roof of the three-storey building, he declared: "There is a housing crisis and they are trying to evict people from their homes. I am resisting peacefully. This is my home."
Chris*, 25, took the action after bailiffs from High Court Enforcement turned up at the derelict pub this morning. Chris, along with the other people currently residing in the pub, said they had not been warned of the eviction happening today, although they were aware that the building had been given a possession order and eviction was imminent.
On his decision to get down from the roof, he commented, "I've got my point across. I'm a pacifist and I don't want anyone to be in danger on the roof". He added that "It's been an upsetting day – I've lost my home".
The Grade 2 listed building was empty for eight years before being occupied by Chris and friends six months ago. The pub had previously been repossessed by a bank and fallen into disrepair.
The occupiers claim that the building is being purposefully neglected to make it easier for future developers to get around planning restrictions on listed buildings.
Another occupier, Hayat, 22, claims Chris renamed the pub the 'People's Palace', and had a lot of support from the community.
"He put so much work into that place, renovations, re-roofing, dehumidified the place and cleaned it up, got the plumbing working…" she says. "He's given a lot to people."
The pub has been a home – with zero drugs and 'safe space' policies – for a transient group of vulnerable adults and travellers, some of whom are now sleeping in tents elsewhere in the city.
Many more benefited from the space, says Chris. Over six months, the space offered a base for people to apply for jobs, get organised and move on: "There was a lot of people like that who moved on to have permanent places."
The group say the building has been used for workshops and community outreach projects.
"We would get waste food and cook it, and then distribute it to homeless people in the area," says Hayat.
Two police cars were present at the scene with officers claiming their presence was purely to ensure safety for the public and for Chris, and prevent 'breach of the peace'.
The bailiffs at the scene, from High Court Enforcement (HCE), declined to comment on the circumstances of Chris's eviction.
For more information on Bristol's housing crisis, see the Cable's investigations on Dead Space, the future of supported housing and the impact of off-shore companies buying up Bristol.
*Interviewees requested the use of first names only.