Opinion: We need to fight council tax plans that hit poorest hardest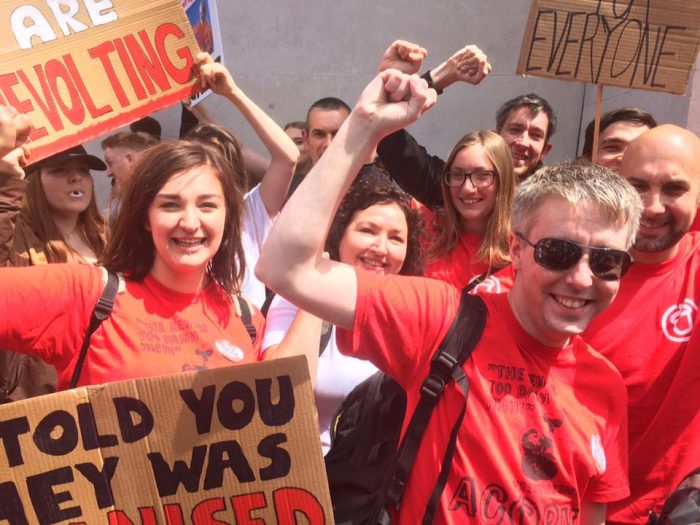 The short sighted and damaging plans need to be dropped and another way found, argues Anny Cullum an organiser for ACORN.
As part of the bid to save £104 million by 2022 Bristol City Council are planning to cut council tax reductions and exemptions for some of the poorest people in Bristol. Currently, Bristolians on low incomes are not expected to pay the full amount of council tax and are eligible to apply for a reduction or an exemption.
The council are holding a consultation about the proposed changes which outlines three options for how the current reduction scheme should change. All three options involve removing exemptions, with no option for the policy to stay the same.
So far over 4,000 signatures have been added to a paper and
online petition
As a member of ACORN, the tenants' union and anti-poverty organising group we are running a campaign to stop these changes. Paying a fiver or a tenner a week may not seem like much, but when I was surviving on £60 a week from Job Seeker's Allowance that money meant the difference between having any electric on the meter, food on the table or being able to catch the bus to a job interview on the other side of town.
So far the union organising committee has developed a strategy for opposing the plans including door knocking to raise awareness in Barton Hill, one of the areas where a lot of people will be affected if the changes go ahead. We will also be out in other heavily affected neighbourhoods such as Hartcliffe and Lawrence Weston. What has been surprising is the number of people who are unaware that any changes are being proposed at all. So far over 4,000 signatures have been added to a paper and online petition to implore the council to scrap the consultation and protect council tax exemptions.
Although the wealth of support for the petition is promising, we are aware that in order for people to make their voices heard we need to get together and organise. We are planning to hold public meetings in Barton Hill, Hartcliffe and Lawrence Weston in order to bring people together to organise direct action to apply pressure to their elected councillors. If the consultation proceeds, councillors will vote on whether to introduce the changes at a full council meeting in November or December this year. The first meeting near Barton Hill will be on Tuesday 12th September, 6.30pm at Communication Workers Union Building, 20 Church Road, Bristol, BS5 9JA.
Moving into the 8th year of Tory austerity, councils across the country are making difficult decisions in order to balance the books on an ever decreasing budget. We feel that the poorest in society have already borne the brunt of the Tories disastrous economic policy to reduce the deficit. But this deficit was not caused by the frivolous spending of working class households, but by the irresponsible gambling of big banks and finance. The council needs to find money, but it needs to stop looking for it from Bristol's poor. This is especially hard hitting when ordinary people are being asked to pay more for services that are being cut, and is ill-fitting with the mayor's push to persuade Westminster of alternatives to austerity.
The scheme's changes are projected by the council itself to only save around £4million per year. However, research from the New Policy Institute and Z2K has shown that those councils that made similar changes saw a strong correlation between the level of support removed and level of uncollected council tax. In effect finding a false economy with damaging consequences.
ACORN believes that the threat of prosecution for non-payment of council tax (also the single biggest reason for the council's use of bailiff companies in Bristol) will force many families to make difficult decisions between paying the tax and paying their rent, or buying their necessities. The proposed changes are not only cruel but also financially short sighted. The choices people will face will lead to rising evictions and homelessness due to non-payment of rent, increased strain on mental and physical health services with the increased stress on individuals. In the end this will cost the council far more than £4million per year in the rising burden on services such as housing and health.
Bristol City Council has a choice about whether to push forward with these changes or to continue to support its most vulnerable citizens and those who fall upon hard times. We urge them to see past the short term saving and retain council tax reduction in its current form for the good of the people in the city.
If you want to support the campaign please visit acorntheunion.org.uk/counciltax where you can sign the petition and fill in the council's consultation.