Protesters claim victory in blocking "illegal" eviction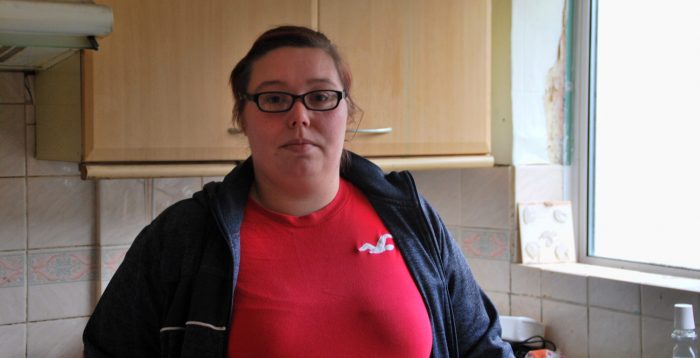 ACORN campaigners have stopped former Bristol City Football Club director from evicting a mother and her three small children from their home.
Protesters yesterday stopped an eviction that they say was illegal, filling the front garden so the court instructed bailiff couldn't get through.
Mum-of-three Sally Andrews stood in her doorway looking shaken after the bailiff and the property manager had left.
A court had ruled that the planned eviction was legal, but housing rights campaigners and community union ACORN say that Andrews has not had proper documentation, including a deposit protection scheme receipt, gas safety certificate or energy performance certificate, making the eviction notice invalid. Legal or not, they turned out in force to stop the bailiff getting into the house.
Andrews says that this is the second time that landlord Ernest Arathoon, a director of Bristol City Football Club until this March, has tried to forcibly evict her. In February, she came home from a school run with her three young children to find the locks changed and the tenancy agency, Ernest Anthony Property, not answering her calls.
"I didn't have anything for my youngest daughter, no nappies, no milk, nothing," she told the Cable.
When she called the police, an officer told her to break back in to get what she needed and then secure the property on the way out. She and her children spent eight weeks staying at her mother's and in friends' homes before moving back in a few weeks ago. Her house was in the same state of disrepair as when they'd left, and the back door hadn't been fixed.
"Obviously the kids were getting unsettled so I had to bring them back, but they've been unsettled ever since they've been back here as well," said Andrews.
She said that the youngest two don't understand what's happening, but that it's made her four-year-old scared. "She knows now, she's scared, she goes 'mummy, what if the man comes back?'."
When the agency did call back, four days later, they said that they'd changed the locks by accident and gave her the new keys. They said that they'd meant to change the locks to her neighbour's house, who'd been evicted shortly before. But Andrews said that her friend had already returned the keys, so there would have been no need to change the locks.
"Whether it was a mistake or not it was completely unprofessional and completely illegal anyway," said Nick Ballard, an organiser for ACORN.
"We want to expose Ernest Arathoon, who's a very rich man, lives in a lovely house and the way that he's treated his tenants is disgusting."
"Aside from the eviction side of things, there's some pretty serious disrepair in the house. She's complained and tried to get those repairs made and then lo and behold an eviction notice falls on her mat," he told the Cable.
Andrews says that the mould and damp are exacerbating her youngest daughter's asthma and that she had carbon monoxide poisoning when she first moved in. "They had to shut all my gas off and had to open all the windows and doors". The back door still hasn't been fixed, Andrews keeps it closed with a piece of wood, and the other repairs she has requested haven't been made either.
Arathoon got a call from the Cable to his property in Miami. He has denied all allegations and claims that Andrews had "sabotaged my property to make me look bad".
"This is all lies," he said, adding that the eviction was awarded by the judge and that "if there's an issue maybe they should take it up with the judge who awarded it".
Arathoon has owned several properties, pubs and businesses in Bristol, including a self-described 'ethical' payday loan company, which folded in 2013.
As far as Arathoon is concerned, this isn't over. "There was a court bailiff there yesterday to see the eviction through but he was obstructed by ACORN group so the eviction will take place another day with the police attending," he said.
Ballard says that it's important for tenants to stand together and support each other, and that every eviction they stop and repair they make happen is a victory for tenants everywhere.
"The reason that Sally's in this situation is due to the very weak legal protections for tenants. In a situation where there's insecure short-term tenancy agreements, the law is on the side of landlords, basically," he said.
"We might be weak or defenseless when there's just us, but we've all got these problems – or potentially got these problems – and when we get together that's when we've got that strength in numbers and can stop that happening and possibly lead to changes in the law that we all need."