'From climate to jobs, there is no justification for Bristol airport expansion'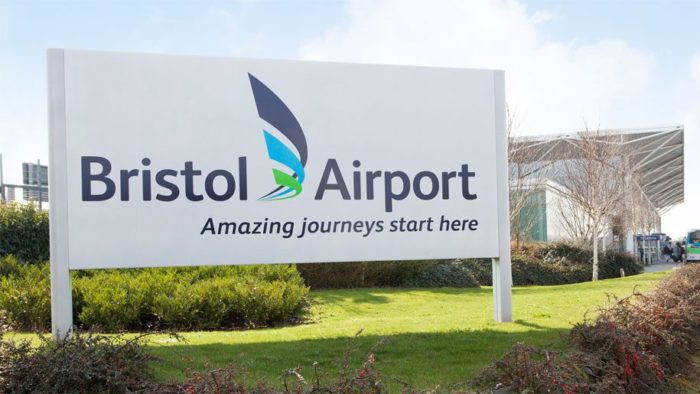 The plans are based on dodgy data, argues Priyanka Raval.
Let's review the state of play on the Bristol Airport expansion battlefield, a decision resting on whether or not the company gets planning permission from North Somerset council. On one side looms the mighty Bristol Airport, flanked by the business lobby and many local politicians including Somerset's Conservative MPs. On the other side, the opponents: many locals, environmental campaigners, some councillors, the Green Party, Extinction Rebellion, to name a few. In the middle sits North Somerset council who are expected to deliver their verdict in the next few months, after multiple delays. I'll be upfront; I'm rooting for the resistance. What good will an increased opportunity to holiday in Faliraki be when we're all submerged below sea level?
Bristol Airport has a rather seductive PR campaign concerning its expansion. It will, in the words of Dave Lees, CEO of the airport, "connect our region to the world, providing a gateway for business, investment and tourists." Apparently environmental concerns were also dealt with, according to the 'net zero [carbon] by 2050' pledge Bristol Airport last month announced.
"So if the airport is environmentally deleterious and economically trivial – the question is, what possible justification remains for expansion?"
But a report released by the New Economics Foundation (NEF) last month outlines significant inaccuracies in Bristol Airport's arguments for expansion. According to Alex Chapman, author of the NEF report, the "concerning inconsistencies" and "critical mistakes" in the airport's business case lead to a "significant overestimation of the potential economic benefits and a significant underestimation of its potential carbon costs." In large part these mistakes and inaccuracies are due to the advisors, consultancy firm York Aviation, appearing to cherry-pick the methods they use in their analysis to create a "grossly overstated" expansion argument.
Take, for example, the estimated boost to tourism. The airport uses national data on spend per tourist rather than regional benchmarks, which NEF say could mean an "overestimation of the benefits by more than a third".
Consumer demand
NEF say that the airport significantly overestimates demand for flights, predicting an increase in passengers to 10-12 million passengers per year. This contradicts the estimations of the Department for Transport of 8.5m passengers in 2030 – less than there are currently.
If the growth in demand doesn't rise then expansion would be "unnecessary and… under-utilised," says NEF. There's not a regional lack of capacity either: other south west and Wales airports such as Cardiff, Exeter, Newquay and Bournemouth are all running under capacity. Overstating passenger demand means the claimed economic benefits to the region are inflated too: by almost 50% for the West of England region and 70% for the wider south-west region and Wales, the report finds. The airport claims that expansion will generate £190m per year of productivity for the regions businesses by 2026, but the NEF report refutes this, stating that most of that value is simply displaced from other airports in the area.
But while the airport is willing to take credit for any supposed regional economic benefits it has a rather different attitude to carbon costs.
"We have not assumed any additional carbon costs from the flights associated with expansion," states Bristol Airport's assessment, because if they don't come from the airport's expansion then they will "still be incurred elsewhere."
Green councillor for Southville Stephen Clarke takes issue with this: "The methodology used for the carbon cost calculation by the airport is fatally flawed in claiming that no extra flights would be created by the expansion. It's a totally unrealistic logic and obviously an unfair manipulation of the figures to boost the business case."
Here's the part that I find most preposterous. You'd be forgiven for forgetting but the government has in fact accepted the Committee on Climate Change's (CCC) recommendation that the UK adopt a target of 'net zero' emissions by 2050. It states that even with extensive carbon mitigation in the aviation sector, demand should grow no more than 60% and mechanisms such as a carbon tax would be implemented to achieve this. A carbon tax would increase the price for tickets and suppress demand.
It's nonsensical for Bristol Airport to plough on with expansion despite the fact that measures could soon be implemented to deter people from using it.
'Carbon neutral' – a case of greenwashing?
This seeming disjunct between words and action begs the question – what does it actually mean to be "carbon neutral" or "net zero"? Bristol Airport's glossy "Becoming a net zero airport" brochure demonstrates a particularly incredulous approach: the airport can only claim carbon neutrality by discounting the emissions from the planes! Oh, and the cars that drove the passengers to the airport.
According to environmental consultant Adrian Gibbs: "The all-told impact of the current planning application to 12 million passengers by 2025 is likely to be around 920ktpa CO2e per annum, six times greater than the 154ktpa CO2 stated in the environmental statement."
It gets worse, the airport's main strategy to achieve net zero is not by preventing carbon emissions but to offset them through the Carbon Offsetting and Reduction Scheme for International Aviation (CORSIA) which will commence in 2021 and use methods such as afforestation or the use of carbon capture and storage technology. But from Friends of the Earth to the UN, carbon offsetting has been widely decried as an ineffective alternative to reducing/ eliminating carbon emissions.
Moreover, according to Gibbs offsetting is nigh on impossible: "A tree takes 40 years to absorb one tonne of CO2. To offset these additional emissions would require 180 million trees to be planted every year, creating 430 square miles of new forest. That would mean reforesting an area the size of North Somerset every four months."
Marvin Rees and Theresa May's declaration of 'climate emergencies' seem nothing more than a smokescreen behind which to carry on business as usual. A means by which to superficially placate but not seriously address the negative impacts of expansion: climate change, the impact of poorer air quality on health, levels of congestion, biodiversity loss and building over SAC and green belt land.
As Cleeve parish councillor and chair of the Parish Councils Airport Association, Hilary Burn says: "We've had climate motions but now it's time for action rather than words – otherwise it's meaningless. Our local MPs Liam Fox, Jacob Rees-Mogg and John Penrose – who all have constituents living under the flight path – should publicly object to Airport expansion due to the climate emergency and the meagre economic argument in its favour."
So if the airport is environmentally deleterious and economically trivial – the question is, what possible justification remains for expansion?