Our 2016 favourites: Cable features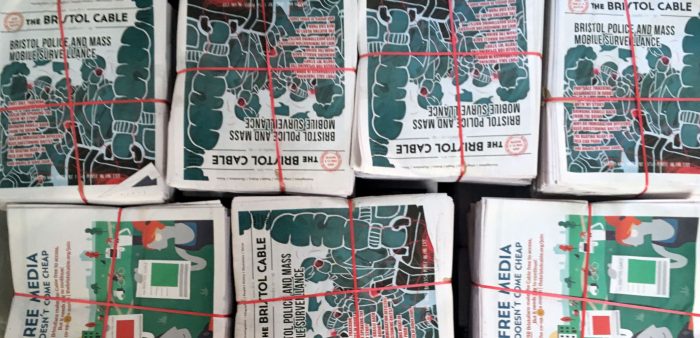 Here's a selection of the best features the Cable has produced over the last year.
Features are the Cable's bread and butter and we're getting pretty good at them. Not only have we learnt more tricks of the trade to do the kinds of investigative work that few other media organisations bother with, but we're more embedded in the city and know the context and the characters better, we're finding the Cable's voice and writing better and, best of all, more people are reading what we write and reacting to it.
Over the last year we've had some major scoops. Revealing that Avon and Somerset Police, along with several other police forces, have bought IMSI catcher equipment made it way into the Guardian and has sparked a new line of research by Privacy International. Our coverage of the housing hasn't exactly 'led to' the progress being made in the sector, but it's certainly helped. And if George Ferguson didn't already regret selling the freehold to Bristol Port, he might do by now.
What's it about?
Bristol council has auctioned off 268 council properties since 2005, supposedly because they're uneconomical to repair or maintain. However, it seems that local property developers disagree, the Cable's analysis shows that many of the buyers were able to quickly re-sell the the property for a huge mark-up.
Why did we like it?
This was an incredibly challenging piece of data analysis, which would have been all too easy to give up on. Lucas and Adam poured weeks into just compiling the dataset using sophisticated web-scraping and some clever statistical work. That in itself qualifies as a great piece of journalism.
But the real struggle was in presenting the data fairly. We didn't have to adjust the figures to account for standard house price increases, we didn't have to check whether the re-sellers had substantially improved the premises to justify their gains, and we didn't have to limit our window of investigation to recent sales to improve the data-quality . But we did, and it's a better story for it.
What's it about?
When the majority of the schools in Bristol converted en-masse to academies, there was no-longer any real oversight of how many children were being excluded. This has led to a large increase in students being removed from normal education and bumped into pupil referral units.
Why did we like it?
This article was really ahead of the curve, explaining the unintended consequences of seemingly innocent change to the education system. The fact that more and more schools were excluding more and more children was last year's big issue in education, and it informs on one of the big issues this year: the cost of running a hugely expanded pupil referral unit. Although we are yet to discover a way to inform you about what's going to happen in the future, we hope that the Cable can at least point towards dark clouds on the horizon.
What's it about?
An 'IMSI catcher' is a mobile phone surveillance that indiscriminately captures the phone ID number and location of every mobile phone within approximately 8km. Avon and Somerset police refused to admit whether they had one, but we discovered they bought £170,000 worth of something from a leading supplier of the devices.
Why did we like it?
What makes surveillance so pernicious is that the authorities will not admit that they are doing it. In an enlightened democracy, you're supposed to be able to have an informed debate on issues of public policy, and the question of 'should the police know the location of every mobile phone in Bristol?' has not been discussed. It won't be discussed until there's concrete proof that these devices are in use and our research brings Bristol, and many other areas of the UK, closer to that.
What's it about?
Former Mayor George Ferguson sold Bristol Council's freehold to the land at Avonmouth Docks late last year and we've written about it a lot. Our first piece looked at the sale process, where a council vote was overridden, a cabinet member was fired for objecting and all sorts of opaque dealings with the owners over the port itself.
Later in the year we uncovered that the Port owners were applying for a fracking license for the area, that the Mayor knew about it and decided to keep it under wraps. Pressured into responding to that story, Mr Ferguson claimed that 'contractual protections' prevented fracking and, with a heavy heart, we had to prove him wrong once more.
Why did we like it?
After our first feature on the Port sale we really thought that there was very little left to investigate. A few loose ends, and a bit more detail we could have gone into, but the story was basically done. Then just a week before the Mayoral elections, the results of a freedom of information request for internal correspondence came back, and one word immediately jumped out – fracking.
We had to really rush to get that story out in time for people to make an informed choice at the ballot box, so while the reporting could have been better, we're glad we did it and would do it again.
It shouldn't be possible for an elected official to sign up to a 'frack free bristol' and do very little to stop potential frackers. We'd like to think we're making it a little more difficult to maintain a public and a private position on issues as important as this. And when a public official offers a false assurance, you can bet we'll hold them to account for it.
What's it about?
Cononlly and Callaghan has a strange double-life, most people know them as the owners of Hamilton House in Stokes Croft but also one of the city's largest emergency housing providers. We learnt that settled tenants in one of their buildings were being evicted to make room for more profitable emergency housing. In essence, people were being made homeless to provide shelter for more homeless people.
Why did we like it?
This was a really controversial article, not so much for the facts we uncovered, but because of who Connolly and Callaghan are. The company has given a lot to the City in its other projects and there are certainly housing providers that have treated their clients worse, so lots of people sprung to C&C's defence when we ran this story. (An almost suspicious number of people, in fact)
But if journalists are only allowed to write stories about companies that are wholly and objectively 'bad', then we'd not have much to write about at all.  C&C's positives don't discount the negatives we uncovered, and if you put yourself on the pedestal of 'ethical' it shouldn't be a surprise when it's challenged.
But, theorising aside, this was a great story because it helped build enough pressure to actually make a change. It forced C&C to reassess their work, it forced the Council to reassess C&C, and hopefully life got a little easier for all the people living in emergency accommodation this Christmas.

What's it about?
Talking therapies are often the first step towards managing your mental health, but NHS services are overloaded and what are you supposed to do if you don't have £120 per month to spend on private provision?
Why did we like it?
In a perfect world, all our features would be about unexamined issues that affect a lot of people, we'd be able to clearly outline the problem and offer a few solutions to it too. Amani's feature does all of that. And the way it came about shows the real potential of the Cable as an idea. One Bristolian faced a problem, not being able to access affordable talking therapies, and went about trying to find alternatives. Then instead of sorting herself out and keeping that knowledge to herself, she shared it with us to share with you. We hope it helps someone!