Banjo Island: the close-knit community behind the reputation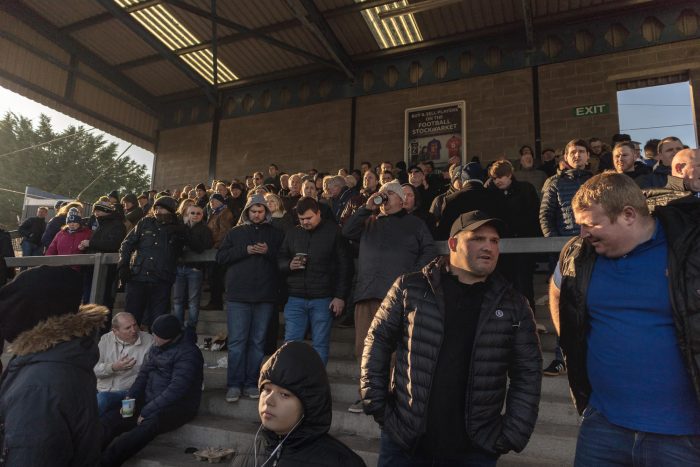 Despite its fearsome reputation, we found a warm community and good living on Banjo Island estate in Cadbury Heath.
Photo essay: Alexander Parkyn-Smith
If I said to you "Banjo Island", what would you think of? If you're new to Bristol, probably not much. If you know Bristol, you might pull a face and say "Stay away from there!"
So, for those that don't know: Banjo Island is another name given to the council estate built after the war on Cadbury Heath, which is on the very eastern edge of the city. This is the story of the area, as told to me by the people who live there.
First up, why 'Banjo Island'? Steve sets us straight: "From an aerial view, you've got the [grassy] Island, and then Park Road looks like the neck of a banjo."
Les and Mark have lived in Banjo since they were "knee high to a grasshopper" and still live there, as do Kerry and Jem, Paul, Nick and Helen, Steve, Dave, and Malcolm. Most of them follow Bristol Rovers, and all of them drink in the Lamb, the pub that sits right at the heart of the community.
"You'd get cars come round from Kingswood, Stockwood, Keynsham, looking for a big dust-up."
A well-earned rep
So, what about this reputation that Banjo has with the rest of Bristol? "It used to have a bad reputation," admits Steve, "back in the 60s". Paul agrees: "I think it's always been known as a difficult area….it's got that stigma."
Back in the day, Helen was a single mum looking for a council flat: "[They] told me that I could have the keys to a flat in Cadbury Heath. I can remember, I sat in his office and cried! I said I don't want to live in Cadbury Heath… it had a really bad rep."
The reputation was deserved, earned in violent rivalries with other areas. "When we was kids, we would come up and sit on the wall and protect the Island. You'd get cars come round from Kingswood, Stockwood, Keynsham, looking for a big dust-up," remembers Les. "When you got old enough you would go to other areas, you would upset them, so they would have a go back, it was just a scuffle. You'd go over there and say 'here we are, hello, come on, let's have a go then.' Then get back in the car and go home."
Malcolm and Nick back that up: "Every weekend in the Lamb there was a punch-up. It got quite notorious. People used to come over from Keynsham and Lockleaze, on their Vespas. One time loads came up from St Pauls."